Crime
Top 10 Gruesome Cold Cases That May Finally Get Closure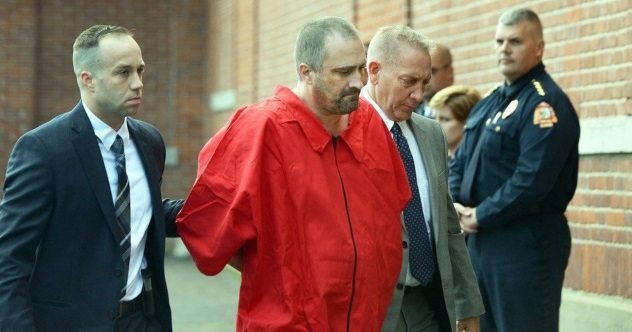 Sometimes, despite the best efforts of investigators, a case goes "cold." More and more police departments are organizing cold case squads to go through these old crimes and see if they can find a new lead to pursue. It can take years, even decades, before new evidence surfaces. Sometimes it's due to a guilt-ridden confessions. Other times, it's because of new technology. And, in some cases, it's plain dumb luck.
These ghastly murders have haunted their respective communities for years. Many people lost faith in ever finding the culprits. And, yet, there's still hope. Within the last year, these ten cold cases saw promising new developments which could finally bring justice decades after the fact.
10

Florida's Killer Clown
In May 1990, Marlene Warren answered the door of her Wellington, Florida, home and, to her surprise, saw a clown standing in front of her, carrying balloons and flowers. She smiled as the clown passed her a balloon printed with the words "You're the greatest!" But right afterward, the homicidal harlequin pulled out a gun and shot Marlene in the face point-blank.
Police suspected Marlene's husband, Michael Warren, and his lover, Sheila Keen, who worked at Michael's auto parts store. They believed Keen even had a clown outfit she had recently worn for a store promotion. However, no solid evidence was found against them, and the couple was never charged.
In 2014, the sheriff department's cold case squad decided to reopen the case, hoping to make use of new technology. Indeed, they had a DNA sample which was inconclusive back in 1990 but now firmly pointed the finger at Sheila Keen.[1] She was arrested in September 2017, and the ongoing investigation has yet to determine if Michael Warren was involved or not.
9

The Murder Of Lisa Ziegert
In 1992, the body of 24-year-old teaching assistant Lisa Ziegert was found in a wooded area in the city of Agawam, Massachusetts. She had been raped, and her throat had been slit. Even though police questioned over 100 suspects, they never arrested anyone.
In 2016, Hampden district attorney Anthony Gulluni announced that the murder investigation was reopened and that police were exploring a new lead using DNA phenotyping. Like the Warren case, DNA samples were recovered from the scene but were too small and degraded to be of any use with 1990s technology. Now, however, DNA analysis was used to build a physical profile of Ziegert's killer.
The next step was to go through the original list of suspects and start ruling them out. Eventually, the list whittled down to one name: 48-year-old Gary Schara from West Springfield.[2] He fled to Connecticut and tried to commit suicide but was apprehended and charged with kidnapping, aggravated rape, and murder. Besides the DNA analysis, Schara also matched an FBI profile of the killer, and an unidentified acquaintance allegedly turned over documents in which Schara confessed to the murder.
8

The Murder In Bath
In 1984, 17-year-old student Melanie Road was walking back to her house in Bath, Somerset, after a night out when she was attacked. Her assailant beat her, raped her, and stabbed her 26 times. Her body was later discovered by the milkman, who was making his rounds with his young son. Soon afterward, police launched Operation Rhodium to find Melanie's killer, but despite investigating almost 100 people, they never charged anyone.
In 2014, 44-year-old Clare Hampton got into a fight with her boyfriend, and police had to intervene. As part of standard procedure, the two were given swabs, and their DNA samples were added to the database. A couple of years later, cold case detectives were searching said database, looking for matches between unsolved crimes and recently added entries. They scored an unexpected hit—Clare's sample had a familial match to DNA left at the murder in Bath.
In 2016, investigators finally had a solid suspect in the murder of Melanie Road: Clare's father, Christopher Hampton.[3] He eventually confessed and got life in prison. Subsequently, the 67-year-old painter was investigated for an eerily similar murder. Also in Bath, another woman named Melanie was killed after leaving a nightclub precisely 12 years after the death of Melanie Road. Hampton's role is yet to be determined.
7

The Body In The Attic
When Leigh Ann Sabine passed away in 2015, her neighbors and friends remembered her as a quirky woman who loved attention. That's why all those times she made references to killing her husband, they all thought she was joking. At least, until they found his decomposing body in the attic.
John Sabine was last seen alive in 1997, shortly after the couple moved to the village of Beddau in Wales. Part of the reason why his disappearance was never seriously investigated was because nobody really knew he was there in the first place. In the decades that followed, Leigh sometimes claimed that she was never married while other times saying she left her husband in New Zealand after he had a string of affairs.
Leigh was quite daring, even proud of the murder. Leigh's hairdresser recalled Leigh telling her that she would be famous after her death because of the "body in the bag."[4] One friend said Sabine once told her bluntly that she killed her husband with a frog statue, but the friend dismissed it as one of Leigh's stories. One time, Sabine even asked her neighbor, Michelle James, to help her carry John's body from the garden shed to the attic. James believed the packaged body was an old medical skeleton from when Sabine trained as a nurse. It wasn't until Leigh's death that James went rummaging through the attic and unwrapped the body to find the mummified remains of John Sabine.
6

It's Not Always The Husband

In 1980, the naked body of 20-year-old Teresa Broudreaux was found dumped on the Malaga Cove beach in California. The young woman, who was pregnant at the time, had been killed by blunt force trauma to the head. When police questioned her husband, Ronnie Fematt, he said that Teresa left home after they got into a fight. Naturally, this immediately placed him at the top of the suspects list.
For almost 40 years, investigators made no progress in the case. And for all that time, even though he was never charged with anything, Ronnie was suspected by his neighbors, his coworkers, and the police. It wasn't until recently that authorities were able to arrest the real culprit, a 65-year-old sex offender named Robert Yniguez.
Like with many cold cases, the breakthrough came thanks to DNA evidence. Initially collected at the scene back in 1980, investigators had to wait for technology to catch up to the point where DNA could provide a viable lead. It did so in 2013, when it pointed to Robert Yniguez, whose DNA was on file following an eight-year prison stint for rape.[5] Police spent the next years building a case against the man, who was now married and working as a construction worker. Yniguez was arrested in September 2017 and is currently awaiting trial.
5

The Gregory Affair
On October 16, 1984, the body of four-year-old Gregory Villemin was found in the Vologne River near the French commune of Docelles. 33 years later, the "Gregory Affair" remains one of France's most notorious mysteries, but one that might actually see a resolution soon.
The details surrounding the case sound like they came out of a movie. Prior to the murder, Gregory's parents received several threatening phone calls from an unidentified man swearing revenge. He came to be known in the media as Le Corbeau (The Crow). The first person arrested was Bernard Laroche, a cousin of the father, Jean-Marie. Even though Laroche was cleared of the charges, Jean-Marie still vowed that he would kill him—which he did in 1985. The mother, Christine Villemin, was subsequently charged in 1986 and imprisoned until 1993, when she was also cleared of all charges.
Investigators believed that multiple people were involved in the crime. They also thought that the killers were close to the family, as The Crow showed extensive knowledge about the Villemins during the phone calls.
The case seemed destined to remain a mystery forever, especially after DNA tests conducted in 2013 on Gregory's clothes yielded no conclusive results. However, in June 2017, police arrested Marcel and Jacqueline Jacob, Gregory's great uncle and aunt on his father's side.[6] It remains to be seen if the Gregory Affair will finally be put to rest.
4

The Headless Body Under The Bridge
26-year-old Diane Small disappeared from her home in Bradley, Illinois, in 1980. According to her husband, she left him and their two-year-old daughter after an argument, and he never heard from her again. Meanwhile, a few miles over in Coles County, police were dealing with the body of a woman found under the Airtight Bridge.
The Jane Doe was missing her head and hands. It took authorities 12 years to finally identify her as Diane Small. That was when Diane's sister filed a new missing persons report and provided the DNA necessary to match it to the body. Despite the new lead, the case went cold again.
This changed in 2017, when police announced that they had arrested Diane's husband, Thomas Small.[7] The 70-year-old was charged with his wife's murder, although authorities didn't specify the new evidence that led to his arrest. One source reported that Small confessed to the killing.
3

Better Lucky Than Good
Texas police pulled over John Cyrus Gilbreath during a traffic stop in June 2017 on suspicion of drug possession. Inside the car, they found large quantities of marijuana, a handgun, body armor, and many small plastic bags. Officers believed Gilbreath was a drug dealer, a suspicion confirmed by one of his passengers. They obtained a warrant for his house, where they were expecting to find more drugs and ledgers detailing his criminal transactions. Instead, police found evidence tying Gilbreath to a 29-year-old unsolved double murder.
In 1988, two teenagers named Shane Stewart and Sally McNelly disappeared during the Forth of July fireworks display in San Angelo. Their remains were found months later near Twin Buttes Reservoir. Both died from gunshot wounds.
Inside Gilbreath's home, investigators found a diary talking about murder, specifically naming Stewart and McNelly.[8] They also found a fingernail, a lock of hair, blood, and audiotapes labeled "SS." It remains to be seen if police can conclusively link Gilbreath to the murder of the two teenagers.
2

Gilgo Beach Killer Unmasked?
Although not as famous as other murderers, the Gilgo Beach Killer is one of America's most vicious serial killers still at large. Also known as the Long Island Serial Killer (LISK), he has been active since the mid-1990s and is responsible for up to 16 murders. He mostly targets prostitutes, mutilates their bodies, and dumps the remains along the Ocean Parkway near the town of Gilgo, New York.
Over the last 20 years, investigators found a handful of viable suspects, but none came close to being charged. That may change in the future thanks to last month's conviction of John Bittrolff. A carpenter from Suffolk County, Bittrolff is undoubtedly a killer. He received two 25-to-life sentences in September 2017 for the murders of two prostitutes in 1993 and 1994. However, more notable were comments from prosecutor Robert Biancavilla, who said that one or more of the Gilgo Beach murders could be linked to Bittrolff.[9] Even so, not everyone is convinced that all the killings were the work of one person, and the investigation is in its early stages. We are far from catching the Gilgo Beach Killer, but it's the strongest lead in over two decades.
Bittrolff was arrested in 2014, 20 years after he killed Colleen McNamee. He was identified by chance when his brother was arrested for a misdemeanor. His DNA was entered into the database and partially matched the DNA left at the two crime scenes.
1

'The Beautiful Writer Who Killed'

In 1995, four people were bludgeoned to death in a Chinese hostel in Huzhou, Zhejiang Province. 22 years later, new DNA technology provided authorities with clues that led them to their suspect—a successful Chinese novelist named Liu Yongbiao.[10]
According to one officer, Liu already had a one-page letter prepared when police came to arrest him and expressed relief that his spiritual torment would be lifted after 20 years. Liu claimed he checked into the hostel in 1995 with an accomplice named Wang with the intent of robbing the place. They were caught in the act by a guest and killed him. Afterward, they decided to murder the remaining residents to cover their tracks. Police subsequently arrested Wang in Shanghai.
Stranger still, it seems that Liu was planning to use his murderous experience as inspiration for his next book. In the preface of his 2010 novel The Guilty Secret, the Chinese author mentions that he wanted to work on a detective story where a female writer evaded police suspicions while committing a series of murders. The working title was "The Beautiful Writer Who Killed."