Crime
10 Tragic Unsolved Cases Of Murdered Families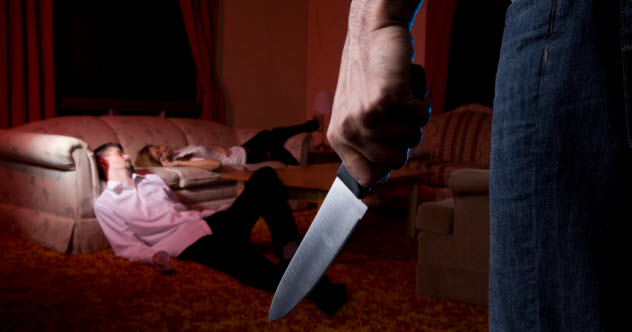 Despite what we see in popular horror and home invasion movies like Funny Games, somebody breaking into a person's home and murdering their entire family isn't a common occurrence. When entire families are murdered, it's often a case of familicide, in which the mass murderer is a family member.
However, entire families are sometimes murdered by a lone psychopath or somebody bent on revenge. Tragically, some of these rare cases are never solved.
10

The Tan Siblings

https://www.youtube.com/watch?v=k-eVEggzBR0?end=102

In Singapore, Tan Kuen Chai and his wife, Lee Mei Ying, owned and drove a bus for schoolchildren. The Tans had four children of their own: a daughter in kindergarten named Chin Nee and three sons in primary school named Kok Peng, Kok Hin, and Kok Soon.

On January 6, 1979, Kuen Chai and Mei Ying left for work at 6:35 AM. About 30 minutes later, Mei Ying called the children three times to get them up for school, but nobody picked up the phone. Next, she called a neighbor, who tried waking the children by knocking on the front door. But the neighbor's knocking went unanswered as well.

When the Tans returned home from work nearly three hours later, Mei Ling discovered the children's bloody bodies in the bathroom. The four children had been cut on their heads, possibly with a knife or kitchen chopper. Aside from some bloodstains in the kitchen sink, the apartment appeared clean and orderly. Nothing had been taken, and no doors appeared to be forced.

Police suspected that the killer knew the family. In an anonymous Chinese New Year card that Kuen Chai and Mei Ying received after the murders, the sender addressed them by "Ah Chai" and "Ah Eng," their nicknames. Signed by "The Murderer," the card contained a picture of children playing and mocked that the Tans could have "no more offspring ha-ha-ha," possibly a reference to Mei Ying's fertility problems.

Although investigators took several people into custody for questioning, nobody seemed to have any connection with the murders. Since then, the case has become one of Singapore's most infamous unsolved crimes.
9

The Sims Family
For many residents of Tallahassee, the Florida capital lost its innocence on October 22, 1966. Like much of the city that day, state education official Robert Sims, his wife, Helen, and their youngest daughter, Joy, listened to a college football game on the radio between Florida State University and Mississippi State.
The Simses also had two older daughters, Jeanie and Judy, but they were out babysitting for families who had gone to the game. Neither girl was expected back home until late in the evening.
Around 11:00 PM, Jeanie came home and found the place eerily quiet. She checked the master bedroom and was shocked to find the bodies of her parents and younger sister lying on the floor, their mouths gagged and their ankles and wrists bound together with rope.
All three had been shot numerous times in the head, although only Helen had survived the attack. Before she could describe what had happened, Helen fell into a coma. She died a few days later in the hospital.
After the murders, panic gripped the city. People kept their children home on Halloween. Women enrolled in self-defense classes and carried water guns filled with ammonia. Interestingly, although no one could think of any enemies the Simses might have had, both Robert and Helen had been blindfolded, and their home showed no signs of forced entry.
C.A. Roberts, a pastor known to the family, became the main suspect in the case. Helen had worked as a secretary for Roberts and had mysteriously left the job a few days before her murder. Some wondered if the two had been having an affair.
Roberts, however, had a solid alibi. He worked for the Florida State University football team and was seen at that day's game.
The detective in charge of the case, who is now deceased, later suspected that a local teenage couple had committed the murders. Although never considered official suspects, this couple reportedly had a strange taste for death and funerals, and the girlfriend displayed an unusual curiosity in following the investigation.
8

The Maps Family
On the night of January 21, 1962, firefighters rushed to extinguish a fire that was raging in the home of Edward and Christine Maps. Christine was found unconscious and bruised, but Edward had disappeared. The body of the couple's baby daughter, Julia Louise, was covered with a pile of blankets.
Although Christine was taken to the hospital, she died from a skull fracture and cerebral hemorrhage by the next morning. Her autopsy showed that she had been hit in the head by a powerful blunt object. The fire that destroyed her home was not an accident but a deliberate attempt to cover up her murder.
A search for Edward began shortly after Christine was brought to the hospital. Although Edward was a generous man who loved his daughter dearly, he was also an oddball and wayward beatnik who suffered from schizophrenia. Authorities immediately suspected him of the murder and arson.
As they searched the neighborhood that cold winter night, they figured that he couldn't possibly have gone far. After all, he had left his wallet, ID, and both of his cars at home. But despite several massive searches and a spot on the FBI's Most Wanted List from 1967 until 1971, Edward Maps (pictured above) has never been found.
A few days after Edward went missing, his friend Henry Evans received a bizarre phone call from him. Edward said that he couldn't go to the police and then started talking about a painting Evans had made. Before he abruptly ended the call, he said, "I want you to give my love to Julia."
In 1971, Edward Maps was declared legally dead. Although he was the initial suspect in the case, many believe that Edward may have been a victim as well. One year after the murders, one of Edward's friends told police that he suspected Edward had been kidnapped and murdered by Christine's father, Robert Wolbach.
Wolbach, an abusive and violent man, opposed his daughter's marriage and despised Edward. Wolbach's wife once told police that she thought Edward was dead but refused to elaborate.
7

The Bricca Family

On September 25, 1966, chemical engineer Jerry Bricca left work, picked up some milk at the store for his wife, Linda, and their daughter, Debbie, and arrived at his Cincinnati home around 8:00 PM. He got his trash ready for garbage day and, after engaging in some small talk with a neighbor who was walking her dog, went inside his house. In the morning, nobody saw Debbie at school, and Jerry never showed up for a flight he was supposed to take for a business trip to West Virginia.

By the next day, neighbors noticed that the Briccas' dogs had been barking all day and that their garbage cans hadn't been moved. So their friends Dick Meyer and Dick Janszen figured they'd check in on them. Meyer, a World War II veteran, opened their front door and recognized a familiar smell: Something was dead inside the house.

As the police searched the Briccas' home, they found Debbie dead in her bedroom and Linda and Jerry dead in theirs. Linda's body was laid on top of Jerry's, and Jerry had a sock stuffed into his mouth. Both Linda and Jerry were tied up, and all three of the Briccas had been stabbed to death.

No murder weapon was found, but Jerry's wallet and the family's morning newspaper from September 26 were missing. Although some believed that the murders were part of a spontaneous robbery, others whispered that it was a carefully planned attack.

According to a neighbor, Linda had seemed nervous and scared several weeks before the murders. A week before Linda's death, a woman she had known named Valerie Percy had been killed in her house in Chicago. Percy's murderer was never caught. Although investigators never determined whether the two murders were connected, Percy and Linda were said to have run around with the same crowd when Linda lived in Illinois.
6

The Diggs Family
In 1970, businessman Wesley Diggs and his wife, Jean, moved their family from Harlem to the small town of Teaneck, New Jersey. Although they were the first African-American family in the neighborhood, their neighbors were friendly, and the Diggses became an essential part of the community. Their teenage daughter, Audrey, was a star athlete, and Jean often brought the other children—Allison, Wesley Jr., and Roger—to Audrey's games.
Wesley, the owner of two Harlem taverns, was a busy man who usually worked up to 18 hours a day. Due to his work schedule, Wesley wasn't home much and sometimes stayed the night in New York. On the afternoon of December 6, 1975, Wesley came home from work and found Audrey "hurt" in her bedroom.
After he ran outside screaming for help, a neighbor who worked as a nurse checked Audrey and discovered that she was dead. They called the police. As the house was searched, the bodies of the other four family members were found in three separate rooms: Jean in the basement, Allison in the attic, and the boys in their shared bedroom.
The younger children were found in their pajamas, leading investigators to believe that they might have been killed the previous night. Somebody who was familiar with the house might have slipped in and ambushed the family as they were getting ready for bed.
Some members of the community suggested that Wesley, who wasn't home that night and later passed a lie detector test, might have known more than he let on to the police. Richard Kazinci, the lead investigator on the case, speculated that it was a revenge killing by somebody trying to get back at Wesley.
Wesley, however, insisted that he had told the authorities everything he knew. Annoyed at public suspicion that he was the killer, Wesley expressed harsh disappointment with how the investigation was conducted. At one point, he asked for the FBI to be brought in. His request was denied. He died in 1985, never knowing exactly what happened to his family.
5

The Wolf Family
On April 22, 1920, after not hearing from his neighbors the Wolfs for two days, fellow farmer John Craft began to worry. Although the weather was bad that morning in Turtle Lake, North Dakota, the Wolfs had left their clothes drying on their outside clothesline. Craft thought this was unusual for the family, so he decided to check in on them.
As he walked up to the Wolfs' home, he heard some pigs making a ruckus in one of the barns. When Craft went to investigate, he discovered the bodies of Jacob Wolf and his daughters Maria and Edna maimed by the pigs and partially hidden by hay and dirt.
The bodies of Jacob's wife, a cousin and neighbor named Jacob Hofer, and the rest of the Wolfs' children—Bertha, Lydia, and Martha—were found in the cellar of the house. The only survivor of the slaughter, the Wolfs' eight-month-old daughter, Emma, lay in her crib unhurt. With the exception of Martha, who had been killed with an axe, the other seven victims had all been blasted by a shotgun.
John Layer, another neighbor of the family, was arrested and charged with the murders in May. According to Layer's confession, Jacob pulled a shotgun on him while the two men were arguing outside the Wolfs' home.
As Layer tried to grab the gun away from Jacob, he accidentally shot Jacob Hofer and Jacob Wolf's wife. He shot Jacob Wolf next and then went after Maria and Edna, killing them in the barn. After he killed the other three girls inside the house, Layer moved the bodies into the barn and basement.
Later in jail, however, Layer retracted his confession. There no physical evidence to implicate him. Layer had confessed to the murders after spending a single day in police custody where he was beaten and pressured by the police to take credit. At one point, he was told that a lynch mob was waiting outside the jail for him.
Until his death in 1925, Layer swore that he was innocent and attempted to take his case to the North Dakota Supreme Court. Although the case is officially closed, it's quite likely that Layer was a wrongly accused man, the victim of a corrupt police force desperate to pin the murders on the easiest person they could find.
4

The Dardeen Family

On November 17, 1987, Joeann Dardeen made a phone call to the police and asked that they check on her son's mobile home in Jefferson County, Illinois. Keith Dardeen, who lived with his pregnant wife, Ruby, and their three-year-old son, Pete, had mysteriously failed to show up for work that morning.

When authorities went out to investigate, they found that Keith's car was missing. Inside the home, they discovered the lifeless bodies of Ruby, Pete, and a newborn baby lying on a water bed. Pete had been beaten to death, and Ruby was attacked so savagely that she went into labor. Apparently, the killer felt no need to spare her baby daughter.

With the family's patriarch gone, police suspected that Keith was the murderer. Two days later, however, some hunters found his body in a nearby wheat field. Keith had been killed by a gunshot to the head, and the killer had mutilated his genitals as well.

As some people interpreted this with a homosexual connotation, one bizarre theory proposed that Keith was secretly gay and involved in an affair. Another theory offered Ruby as the guilty spouse, while others wondered if the murders were a ritual committed by a satanic cult.

In 2000, following his arrest for the stabbing of a 10-year-old girl, serial killer Tommy Lynn Sells claimed that he had killed the Dardeen family. Sells, a drifter and carnival worker who had traveled across the country for two decades, said that he had met Keith at a gas station. Supposedly, he followed Keith home after Keith asked if Sells wanted to have sex with him and his wife.

This story, however, is inconsistent with Keith's character. Also, he was worried about crime in the area and planned to move soon. According to his family, it's unlikely that he would have let a stranger inside his house.
3

The Bear Brook Murders

On November 10, 1985, a man hunting in a forest near New Hampshire's Bear Brook State Park found a 210-liter (55 gal) metal drum knocked over on its side. Curious, the hunter approached the drum and noticed a garbage bag that had fallen outside it.

When he opened the bag, he discovered the partially dismembered, nude bodies of a young woman and little girl. According to analysis, the two victims were related and had been beaten to death. Although they were never identified, police speculated that they might have been mother and daughter. However, no known cases in New Hampshire seemed to match with the Bear Brook bodies.

In 2000, a police sergeant assigned to the cold case returned to the location where the drum was initially found and stumbled upon another drum exactly like the first one. This drum, which was located 90 meters (300 ft) away from the first one, also contained the remains of two females.

A DNA test on one of the bodies, a little girl who might have been two or three years old, established that she was related to the young woman found in the first barrel. The other girl, possibly between the ages of three and five, did not appear to be related to the other victims.

As of late 2015, the four Bear Brooks bodies have not been identified, although investigators have tried using forensic tests and digitally reconstructed images for identification. Despite being found 15 years apart, the victims died around the same time, possibly between the late 1970s and early 1980s. Due to the poor condition of the girls' teeth, the authorities believe they may have come from an isolated or poverty-stricken family.
2

The Boles Family
On August 13, 1965, James Boles, his wife, Darlene, and their sons, Robert and Thomas, moved to a cabin in Crestline, California. After going the entire first weekend without hearing from anybody, James's mother called several other relatives and her son's workplace to see what was going on.
As it turned out, nobody had had any contact with the Boles family since the day they left. To calm James's and Darlene's mothers down, Darlene's brother Floyd offered to drive over to Crestline to make sure everybody was okay.
Although Floyd wasn't familiar with Crestline, an employee he brought along was able to help him find his sister's cabin. As Floyd approached the front door, he looked into the living room window and saw the family's dachshund in a pool of blood on the couch.
Going into the cabin alone, Floyd headed past the empty living room and kitchen and discovered the four bodies of the Boles family in the master bedroom. Each member of the family had been shot multiple times with .22-caliber bullets.
Possibly due to a loud party near the family's cabin on the night of their murders, none of the neighbors reported hearing any screams or gunshots. Several witnesses had spotted two unfamiliar cars parked in the family's driveway, but this was the most helpful information they could give. Over the next year, the investigation stalled due to a lack of clues and strong suspects.
At one point, a sketchy Southerner named George Robert Stewart was questioned and given a polygraph test. Stewart, who was being investigated for another unsolved murder in Alabama, completely failed the test. However, after proving he was in New Orleans at the time of the murders, Stewart was released.
1

The Feeney Family

https://www.youtube.com/watch?v=PYSOWr3dkY0?start=24

In February 1995, science teacher Jon Feeney left home for a weekend conference at Mississippi's Lake of the Ozarks. The day Feeney returned, he received the horrific news that his family had been murdered the previous night.

His wife, Cheryl, and son, Tyler, had been beaten to death. His one-year-old daughter had been choked with a shoelace. The detective who first saw the bodies said it was the worst murder scene he'd ever laid eyes on.

As the authorities began their investigation, Jon Feeney's alibi and lifestyle increasingly came under public scrutiny. Feeney had been unfaithful to his wife on numerous occasions and was even supposed to go out with a fellow teacher the night his family was murdered. Nobody could verify that he was at the conference, and a gas station attendant in the area who claimed to have seen him was later shown to be lying.

About a year after the murders, Feeney was arrested and tried on three counts of first-degree murder. The prosecution highlighted Feeney's dubious moral character and pointed out that he had cashed a $500,000 life and property insurance policy following the murders.

With a lack of physical evidence, however, Feeney was found not guilty and released. Still, some have continued to speculate that Feeney was involved in his family's deaths. One theory, based on the fact that Tyler was found to have been infected with hepatitis B before his death, suggests that Feeney may have had an accomplice or hit man do the job.

Tristan Shaw runs a blog, Bizarre and Grotesque, where he writes about unsolved murders, paranormal phenomena, and other creepy things.