Humans
10 Sassy Seniors Criminals Regretted Messing With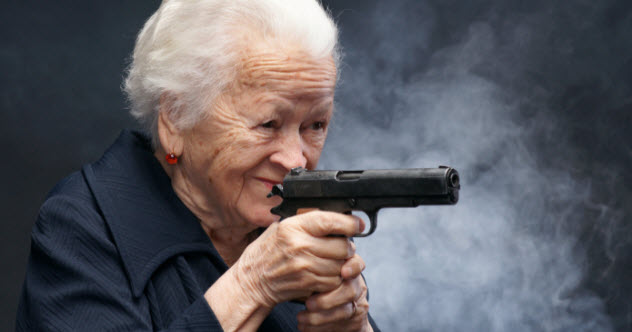 When we think of seniors, many of us picture a frail old man or woman with a hearing aid and cane. We see them as needing help with the most basic tasks, no longer able to be fully independent due to age and the medical issues that often plague the elderly. But some older people are quite capable of holding their own in threatening situations, defending themselves and those around them.
10

Jewell Turner

The morning of April 20, 2015, began like any other for Jewell Turner of Fort Worth, Texas. She had breakfast, did a few chores around the house, and went to her doctor's appointment. While sitting in her van outside the doctor's office, a young man approached, tapping on her window, and said he needed help with directions.

Happy to assist, Turner began to advise him on which route to take. When she turned her head, the young man pulled a knife and held it to her throat, demanding money and threatening to hurt her if necessary. When Turner said that she only had pocket change, he ordered her to give him everything in her purse. That's when the widowed 72-year-old decided she was not going to be a victim.

Although she always carried a pocketknife in her purse for protection, the senior had packed her gun that day. She pulled it out and pointed it at her would-be assailant, telling him to back off or she would blow his head off. Frightened, the man backed away from the vehicle and fled the scene.

Turner was not physically injured, but it did leave her emotionally scarred. In an interview with reporters, she stated that she fears she will no longer be able to see the good in people. It made her realize that there is a dark side, even in her. When she pulled out the gun, she immediately wanted to shoot the man, but she stopped herself.
9

Valerie Melzer

Florida resident Larry Kent Jr., 45, has a lengthy criminal record, which includes convictions for battery, burglary, forgery, and grand theft. On Christmas Day 2014, the convicted felon thought he'd found easy prey when he spotted 68-year-old Valerie Melzer and a few of her friends leaving a Chinese restaurant.

Kent ran up behind Melzer and attempted to take her purse. Clutching her handbag tightly, Melzer began screaming. Realizing that the senior wasn't going to cooperate, Kent got rough, dragging Melzer 5 meters (15 ft) across the parking lot. Two of her male friends, ages 66 and 73, tackled Kent and pinned him to the ground.

That's when they saw Kent had a gun. The men started yelling for help. Hearing the commotion, a 67-year-old passerby rushed to assist, holding Kent while the other two men disarmed him. The men were able to restrain Kent until police arrived. It turned out that Kent's gun was actually a BB gun.

Melzer was treated at the scene for minor cuts and scratches. Kent was taken to the hospital for a broken rib and other injuries. At the hospital, police found Kent in possession of almost one gram of methamphetamine. He was charged with battery on a person over the age of 65, robbery with a firearm, and possession of methamphetamine.
8

John Ollmann
On the morning of June 22, 2015, 78-year-old John Ollmann of Calgary, Alberta, was approached by two men asking if he needed his lawn cut. Ollmann refused, so the men left. Ollmann then went into the garage to work on his motorcycle.
A short time later, the men returned, throwing the senior against a wall. A struggle ensued, with the feisty old man telling them to leave or he would kick them "in the f–king nuts."
That's when one of the men indicated that he had a gun. The two younger men then looted Ollmann's home. But as they attempted to leave, Ollmann met them with a shovel and hit one of them on the side of the head. The two men fled in a truck belonging to a local lawn care company. Although police were able to locate the truck, which had been reported missing, the suspects were never caught.
Later, Ollmann told reporters that he works out, so he wasn't scared during the incident.
7

Harvey Lembo

On August 31, 2015, 67-year-old Harvey Lembo purchased a 7 mm revolver after his apartment in Rockland, Maine, was burglarized five times. The last robbery had occurred one month earlier, with the culprit taking $1,000 in cash and prescription pain medication. Twelve hours after his purchase, Lembo used that revolver to defend himself against another intruder.

That evening, Lembo went to bed with the gun under his pillow. A few hours later, he was awakened by a noise. Realizing that someone was breaking into his apartment, the disabled senior grabbed the revolver and got into his wheelchair. He found a man rifling through his medication.

Pointing the gun at the burglar, Lembo ordered him to sit down or have his brains blown out. As Lembo called 911, the man jumped up and started to run. That's when Lembo fired the weapon, shooting the intruder in the shoulder.

Police arrived at the residence and were able to follow a trail of blood into the woods, leading them to 45-year-old Christopher Wildhaber. Wildhaber was taken to the hospital and treated for his injuries. He was charged with burglary, theft of medication, attempted theft, and three counts of refusing to submit to arrest.

After the incident, Lembo received a letter from the company that manages the apartment building. He was advised that tenants were prohibited from owning firearms. Although he will comply, Lembo argues that he should have the right to protect himself with a gun.
6

Homer Wright

Plagued by gangs, Chicago's South Side is one of the most dangerous, violent areas in the US. In 2008, 40 people were shot and seven killed in the span of 59 hours. In 2010, gang violence became so bad that lawmakers contemplated calling in the National Guard. One weekend in March 2012 was especially violent, with 10 people killed and at least 40 wounded. After the mayor pleaded with the community to do their part, many business owners purchased guns to protect themselves and their businesses. Homer Wright was one of them.

The 80-year-old US Army veteran has owned local tavern Sheree's Past Time for over 40 years. After having his business robbed several times, Wright moved into the building with his wife to keep a closer watch. He also purchased a .38-caliber handgun for protection.

On March 27, 2012, Wright was awakened by his 75-year-old wife, who had heard a noise in the bathroom. Grabbing his gun, he went to investigate. But he only saw a shadow fleeing. A few hours later, the couple heard more noises. Wright ran back to the bathroom. This time, he saw the intruder, 19-year-old Anthony Robinson, and shot him in the leg.

The teenager was able to escape out the window but collapsed in the alley, where he was found by police. He was taken to the hospital and treated for his injuries. He was also charged with felony burglary.

A police investigation revealed that Wright wasn't permitted to own a firearm because he had prior criminal convictions. As a result, he was charged with one felony count of unlawful use of a weapon. The community became outraged. Many residents and neighborhood leaders rallied behind Wright and voiced their anger at his arrest. The prosecutor dropped the charges.
5

Samuel Williams

On a Friday evening in July 2012, 71-year-old Samuel Williams and his wife went to the Palms Internet Cafe in Ocala, Florida, to enjoy a cup of coffee and use the computer. A short time later, two masked men burst into the crowded shop. One pointed a gun at customers while the other brandished a baseball bat.

Realizing a robbery was occurring, Williams knew that he had to protect his wife and the other patrons. He drew his .38-caliber handgun and began firing at the suspects. The men panicked, tripping over each other as they attempted to flee. Williams kept shooting until the robbers were out of the cafe. Later, they were apprehended by police.

Duwayne Henderson, 19, had been shot in the right hip and left buttock while Davis Dawkins, 19, received a minor wound to his arm. Both men were charged with attempted armed robbery with a firearm and criminal mischief. Henderson accepted a plea deal, receiving two concurrent five-year sentences, five years of probation, and 200 hours of community service. He was also ordered to pay restitution. Dawkins pled guilty, receiving a four-year sentence and four years of probation.

Police ruled that the shooting was justifiable because Florida law allows individuals to use deadly force to protect themselves and others when resisting a forcible felony. Williams also had a concealed weapons permit for his handgun.
4

Ann Timson

Ann Timson, 71, of Northampton, England, spent most of her life helping people and improving her community. As vice-chair of the Residents Association, she was instrumental in turning her neighborhood—which was riddled with crime, drugs, and prostitution—into a relatively crime-free area. The senior, who is sometimes confined to a wheelchair from her arthritis, made international headlines in February 2011 when she took on six armed men who were attempting to rob a local jewelry store.

Timson was out for her walk when she saw a group of men on motorbikes pull up in front of Michael Jones Jewellers. When they began waving sledgehammers, she thought they were attacking someone. The elderly grandmother sprang into action, sprinting toward the men to confront them.

As she approached the jewelry store, she realized that the men weren't hitting anyone. They were attempting to rob the store. Armed with only a large pocketbook, Timson began beating the would-be robbers. A crowd soon gathered, but no one came forward to help. As Timson continued hitting the group with her pocketbook and told them to "get off," the men started to flee.

One of them tripped over his motorcycle and fell down. Getting up, he raised the sledgehammer at Timson. For a moment, the two stood eye to eye, but the senior stood her ground. As he dropped the weapon and began to run, bystanders finally intervened, detaining a couple of the assailants until police arrived.

Five of the six suspects were apprehended and charged. They received sentences varying from four to six years. The remaining robber is still at large. He made off with more than £111,000 of Rolex and Cartier watches.

Dubbed "Super Granny" by the media, Timson insists that she is not a hero. She is simply a mother who thought a kid was being hit. She was later honored with the Pride of Britain Award.
3

Willie White
On March 28, 2012, 75-year-old Willie White was at home in Detroit, Michigan, watching a basketball game. Around 1:00 AM, he heard someone trying to break in. Fearing for his life and that of his wife, who was upstairs sleeping, White grabbed his rifle.
After a few kicks of the door, the intruder was inside the house. The senior fired his gun, sending the man flying backward and scaring away his accomplices outside. Then White called 911. When police arrived, they found the intruder was also armed with a gun. Bronco Mosley, 18, later died of his injuries.
White was understandably shaken. Though he expressed regret at taking another life, he said he didn't have a choice and would do it again. Wayne County prosecutors found the shooting to be justifiable, indicating that White had the reasonable belief that his life was in imminent danger.
2

Tom Greer

In July 2014, 80-year-old Tom Greer of Long Beach, California, arrived home to find two intruders going through his safe. The two burglars started beating the senior, breaking his collarbone. During the altercation, Greer was able to retrieve his .22-caliber handgun. Seeing the weapon, the two intruders fled the residence. Greer chased them into an alley.

Gus Adams, 26, got away, but his accomplice, 28-year-old Andrea Miller, was shot in the back. She begged for her life, telling Greer that she was pregnant. Showing no compassion, Greer shot Miller again, killing her.

Then Greer dragged her body into his garage in an attempt to coax Adams back to his house. Adams did return, making off with Greer's gun and phone. Then he jumped into a getaway car driven by his mother. The two were later apprehended by police.

The mother was charged with first-degree residential burglary and first-degree residential robbery. Adams was charged with several felonies, including possession of a firearm by a felon, first-degree robbery, and Miller's murder because it happened while they were committing an indictable offense.

Even though Greer shot Miller in the back outside of his home, prosecutors decided not to file charges against him, stating that he exercised his legal and legitimate right to self-defense. An autopsy revealed that Miller was not pregnant.
1

Kenneth Byrd

On the night of October 20, 2014, Kenneth Byrd, 67, was at his residence in Lumberton, North Carolina, watching TV with his wife and 19-year-old granddaughter. Their evening was interrupted when a man knocked on the door, stating that he had car trouble and needed water. When Byrd turned to get it, two other men stepped out of the shadows. The three men, armed with guns, forced their way inside and demanded money.

Byrd and his wife were taken to the back of the house and ordered to open the safe. However, the intruders' attention soon turned to Byrd's 19-year-old granddaughter. The men surrounded the girl and began trying to undress her in an attempted rape.

Looking on in horror, Byrd knew he had to act quickly. The senior was able to get his gun and began shooting at the intruders. The men fired a few shots of their own before fleeing in Byrd's Cadillac.

Seriously injured, Byrd was airlifted to the hospital. Later, police were notified that 28-year-old Brandon Carver Stephens and 17-year-old Jamar Hawkins had arrived at the hospital with gunshot wounds. The third suspect, 20-year-old Jamie Lee Faison, was found dead from a gunshot wound inside Byrd's stolen vehicle. Stephens and Hawkins were charged with a number of felonies, including kidnapping, first-degree sexual offense, and assault with a deadly weapon.