Pop Culture
10 Pieces Of Celebrity Gold Hiding On YouTube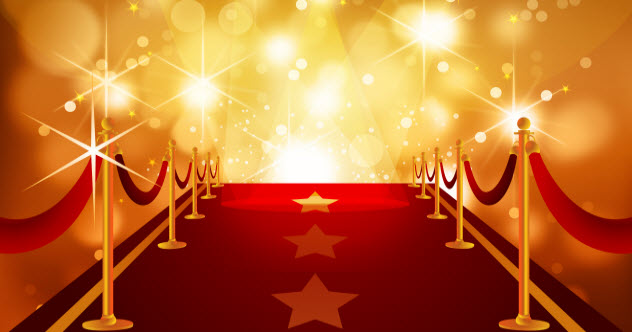 Mainstream celebrities are not necessarily YouTube celebrities. The younger generation may not share a video of a star from a popular YouTube channel even if that person would have no trouble getting featured on television. But some of the videos are worth checking out.
SEE ALSO: 10 Terrifying YouTube Videos That Will Keep You Awake At Night
10

Daniel Radcliffe

Daniel Radcliffe's career has included numerous films, such as the bizarre movie Horns, to disassociate him from his starring role in the Harry Potter film series.

Still, his reading of the short story "Fear of Hue," written by teenage British author Nicola Torch for the YouTube channel Chilling Tales for Dark Nights, seemed to remind its few viewers of Harry Potter.

Radcliffe described the experience of being haunted by a persistent female ghost who clutches at him and seems to breathe death on his face. This brought the character Moaning Myrtle to mind in a rather insidious way.

Even if you're not familiar enough with the Harry Potter series to make that association, this video is definitely worth your time. Despite having less than 30,000 views, it received thousands of positive votes.
9

Tom Cruise

MTV is no longer a media giant, but its YouTube channel has a respectable following at more than 800,000 subscribers. Tom Cruise is famous enough that it became international news when a prankster spritzed him with water. So you'd expect MTV's video interview of Cruise to be fairly popular.

In this short video, Cruise repeatedly fails to recognize catchphrases from his own movies, making the video neither too worshipful nor too mean. Since it's not even two minutes long, this video should have been easy to spread for people wanting to share a quick laugh.

But this clip didn't get many views. It was uploaded at the time that Cruise was promoting Mission: Impossible—Rogue Nation, so maybe audiences could already get plenty of him elsewhere. More likely, it shows the disparity between online and movie audiences.
8

Penn Jillette

Penn Jillette is a confirmed source of viral videos. On his own YouTube channel, his viral videos show him ranting that Obama should legalize marijuana and talking about receiving a Bible after one of his Las Vegas shows. Even when he just says, "Shut the f—k up," the video becomes popular.

One night in April 2014, Jillette was in Las Vegas looking at the lights above the Luxor Hotel drawing flocks of birds. He seemed to think that they were far too big to be birds and started going off about them being "angels." Then, in a high-pitched voice, he kept repeating "Look at that!" because he just couldn't take what he was seeing.

At only 37 seconds long, the video is so stupid and silly that it brings to mind the infamous Double Rainbow video. Jillette was probably lucky that this video on his YouTube channel only got about 11,000 views. Otherwise, the CW would have probably pressured him to change the name of his program Fool Us to Look At That!
7

Patton Oswalt

Patton Oswalt has been enormously successful in reaching both mainstream and "nerdy" niche audiences. Among other parts, he's had a starring role in the Pixar animated movie Ratatouille and a supporting role in the long-running comedy series King of Queens. He's also slated for a new role in the upcoming revival of Mystery Science Theater 3000.

In less than two minutes, the video of his fake ad for Paul F. Tompkins's show No, You Shut Up does a good job of appealing to both audiences. Clearly meant to parody the polarizing presidential aspirations of Donald Trump, it's so mild and silly that even the most sensitive Trump booster shouldn't be offended.

Among the standout jokes, Oswalt says that he will "illegalize terrorism to show [his] soft side." Then he names the entire cast of Duck Dynasty and the dentist who killed Cecil the lion as his vice president.

Although Tompkins's YouTube channel does not have an enormous number of followers, this video definitely deserves more than the approximately 1,300 views that it has as of January 2016.
6

Mark Ruffalo

Mark Ruffalo is one of the more accomplished actors to star in multiple billion-dollar films. He received Oscar nominations for his roles in Foxcatcher and Spotlight and has been extremely successful as Bruce Banner in the Avengers movies.

Meanwhile, the YouTube channel for The Graham Norton Show is popular enough that a video of David Beckham looking at his old haircuts got millions of views. Surprisingly, though, a video of Ruffalo riding a unicycle on the show didn't seem to take off.

For the first time in 25 years, Ruffalo climbs on a regular-sized unicycle. At first, he seems to be having trouble with it, but he eventually rides it around the studio. Then a much taller unicycle is brought onstage.

Even before Ruffalo has trouble climbing onto it, Norton asks if the star wants a crash pad. Frankly, Ruffalo seems borderline reckless in not wanting one when he's going that high above the floor.
5

Stephen Colbert

Although his following is quite large and loyal, Stephen Colbert's The Late Show is less popular lately than the competition even though Colbert has a more favorable time slot. Still, The Late Show remains a reliable source of viral videos, such as Colbert's personal talk with Vice President Joe Biden or Jennifer Lawrence's description of how she likes being a human being.

The amusing animated video above got lost in the shuffle. It seems like a recorded conversation from a pitch meeting that wasn't originally intended to appear on film. Maybe that's why it was overlooked, or maybe it's because the video begins with an extreme caricature of the celebrity. He smiles in a slow, unnatural way that comes across as a bit creepy.

But it's completely redeemed by the content of the video. Colbert and his writers discuss a proposed California law that would require pornographic actors to wear goggles during sex scenes for safety reasons. Colbert and crew jokingly suggest that there will probably be a lot more swimming-themed porn if the law passes.

Then they describe a hypothetical porn video where Colbert visits a woman's home in a diving suit. After delivering a fish that he harpooned, he spends the last 45 minutes of the porn film trying to get out of the wet suit. It's a shame that this one didn't take off because we might have seen more animated conversations from Colbert's writers' room.
4

Teller

Teller is inevitably overshadowed by his performing partner, Penn Jillette, because Teller's trademark is silence. But he certainly has the skills and creativity to produce compelling stories of his own. An example is his acclaimed documentary Tim's Vermeer.

In 2008, he made an underappreciated, short series of mock video diaries called & Teller. In one video, he shows how he copes after a zombie plague has struck Las Vegas and killed his performing partner.

This three-minute video packs in many excellent jokes, such as Teller becoming discouraged that his magic act is not appreciated by a zombie. He also says that few of the undead come to his compound because most people in Vegas still stick to the strip.

Probably the best bit is when Teller describes how he shot Penn in the head because Penn had become a zombie. The audience cheered because they thought it was a magic trick.

For casual fans, this video also offers the novelty of hearing Teller do the narration.
3

Rachel Bloom

Rachel Bloom's career trajectory is not typical for a celebrity. She first got into the public eye through viral videos. Then she became a writer for the popular but polarizing sketch comedy Robot Chicken. Now she's the Golden Globe–winning star of Crazy Ex-Girlfriend.

Although the songs she posts from that TV show to her YouTube channel tend to get a lot of views, the video "I Have Friends" slipped through the cracks. The short song features a girl walking through the hallway at school, smiling as she hands out pieces of paper that seem like large invitations.

The lyrics "I have friends, I definitely have friends" make it clear that friendship isn't a source of happiness for her as much as a source of desperation. Then we see the adult Rachel Bloom doing the same things she did as a child, apparently not having matured at all.

It's a great commentary on our desperate attempts at connection in a social media–obsessed society. Also, it's a catchy tune that seems fun on the surface.
2

Steve Carell, Will Ferrell, And Paul Rudd

Collectively, Steve Carell, Will Ferrell, and Paul Rudd have starred in movies that have grossed billions of dollars. On December 18, 2013, the UK radio show Capital Breakfast got them together (along with character actor David Koechner) and had them sing the refrain of Katy Perry's hit song "Roar."

A couple of the performers weren't passionate about the song and didn't know how to sing it well. But after they stopped singing, Carell was instantly accused of liking the song. He enthusiastically pleaded guilty, even though the others made fun of him.

Although Carell isn't considered a hard-core or edgy comedian, he isn't the sort of person you'd expect to be a fan of pop music. It turns the clip into something endearing and honest for many viewers.

Even if you don't find it endearing, the singing portion of the video is brief enough that the joke doesn't wear out its welcome. There's definitely something in the video that warrants more viewers than the 11,800 it had as of early 2016.
1

Charlize Theron

In December 2015, the YouTube channel for The New York Times created a series of dialogue-free videos called Taking Flight. Directed by Daniel Askill, each video is no longer than two minutes and is a variation on the theme of people being weightless.

Although the series features high-profile talent like Melissa McCarthy, Kristen Wiig, Benicio del Toro, and Michael Fassbender, Charlize Theron is the biggest star of the series. Her video is probably the most memorable, too, if only for how intriguingly ambiguous it is.

In the video, Theron wakes up in a seemingly black void. After being briefly surprised, she appears to relax and go along with the situation. Various commenters immediately speculated that she was dead, abducted by aliens, having an out-of-body experience, and more.

The ambiguity makes the video much more haunting than if we knew exactly what was going on. It's a beautiful experience that deserves more exposure.

Adam and Dustin Koski's story The Man in My Eye doesn't feature a celebrity, but it should go viral any day now.