Crime
10 Lesser-Known Cases Of Kidnapping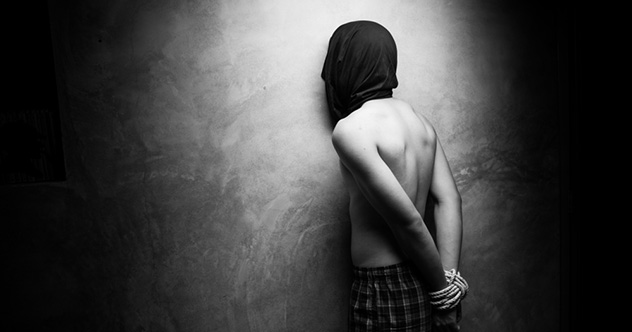 Kidnappings, like serial killings or bank robberies, are crimes which often capture the attention of the nation. People get wrapped up in the danger, the intrigue, and the stories of everyone involved. Here is a list of 10 cases of kidnapping, some of which are less well-known.
10

Dail Dinwiddie

On the night of September 23, 1992, in Columbia, South Carolina, a 23-year-old woman named Dail Dinwiddie went out to a bar to drink with some of her friends after a U2 concert. The bouncer at the bar noticed her leave around 1:30 AM, and she was never seen again. Law enforcement immediately believed it was a kidnapping because everyone that knew Dail said she was an extremely responsible young woman.

To date, Dinwiddie has never been found and no one has been charged with the crime. Reinaldo Javier "Ray" Rivera, a confessed serial murdered, is the most likely suspect, but he has maintained his innocence about the case, along with several other cases for which he is under investigation. Some good did come out of the tragedy, as the nonprofit organization the Dail Dinwiddie Safe Streets Foundation was established. It is dedicated to helping locate missing persons, as well as educating people—especially young people—about safe behavior.
9

Carrie Lawson
In the early-morning hours of September 11, 1991, Carrie Lawson and her husband were asleep in their Jasper, Alabama, home when a phone call woke them up. The caller claimed to be a nurse from a nearby hospital with bad news regarding a relative. The two immediately got dressed and headed to their car. As soon as they opened the front door, a masked man with a gun immediately attacked them. He forced Lawson to tie up her husband and fled in their Ford Explorer . . . with Carrie Lawson as his hostage.
Two days later, Lawson called her husband and said that the kidnappers wanted a $300,000 ransom and that she would be killed if the money wasn't delivered. Her family scraped together the necessary funds and left them where they were supposed to, but Lawson was never heard from again. A woman named Karen McPherson admitted to being an accomplice but had no knowledge of where Lawson was kept. McPherson also said her distant cousin Jerry Bland, a local mining company executive, was the real culprit. When police began staking out his house, Bland shot himself in the head.
McPherson was sentenced to life in prison. Lawson's body, which authorities believe is buried in an abandoned mine, has never been found.
8

Polly Klaas
On October 1, 1993, 12-year-old Polly Klaas invited two of her friends over for a slumber party. During the night, a man named Richard Allen Davis broke into her home and kidnapped her at knife point, tying up the other two girls and leaving them. In a sad twist of fate, Davis was interrogated by police just a short time later because he had accidentally crashed into a ditch. He stashed the still-alive Klaas in the grass away from his car and left her there while the police helped him free his car. He could have been arrested right then, because he had violated his parole. Davis killed Klaas as soon as he got the chance . . . because he didn't want to go back to jail.
Almost two months later, Davis was arrested for a parole violation, and the arresting officer recognized him from a sketch. His palm print matched the one left in Klaas's bedroom, and Davis was charged with her kidnapping. Four days later, he confessed and led police to her body. Davis was subsequently sentenced to death for her murder. The kidnapping and murder eventually led to California lawmakers passing the "three strikes" law.
7

Anne Sluti
On April 6, 2001, Anne Sluti went to a mall in her hometown of Kearney, Nebraska, to buy a gift for her boyfriend. When she was just about to get into her car to head back home, a man named Anthony Wright (aka Tony Zappa) punched her and pulled her into his car. Horrified onlookers immediately called 911 as Sluti screamed for her life. Wright stole a number of cars while on the run with Sluti, hoping to evade police as he fled the state.
Sluti was taken to a cabin in Rollins, Montana, where police finally caught up to them. A standoff ensued, and Sluti was instrumental in helping end the situation without bloodshed. Authorities described her as "very clever and very brave" during the negotiation, as Sluti was the one operating the phones, relaying communication between Wright and the police. Eventually, Wright surrendered and was sentenced to life in prison.
6

Marion Parker

On December 15, 1927, in Los Angeles, California, a man named William Edward Hickman entered the school of his former employer's daughter claiming that her father had been injured and he needed to bring her to see him. The school brought Marion Parker to him and let her go. It was the last time she was seen alive. Just a few hours later, Hickman sent a telegram to Parker's family, demanding $1,500 in ransom and threatening to kill her with a razor if he didn't get the money.

A drop was arranged for the next night, and everything was going smoothly until Hickman was spooked by the presence of police. He drove off, evading police, and returned to his apartment with Parker. Unable to stand the risk of going to jail, Hickman murdered her. The next night, he brought her corpse with him to another drop and got the money from her father. The father believed that she was still alive because Hickman had sewn her eyes open. Hickman drove off, stopping only to push Parker's corpse out of the car before fleeing the scene.

Hickman evaded the police for seven days—even though they came to his apartment and questioned him—until he was caught in a car chase in Oregon. The Mexican government had closed the border, preventing him from fleeing south. He was quickly convicted and sentenced to death. When Hickman was hung in October 1928, he hit his head on the gallows, which kept his neck from snapping, and was strangled to death by the noose.
5

Freddy Heineken
Willem Holleeder was the leader of a local gang in Amsterdam who came up with what he thought was the perfect crime. Armed with guns, Holleeder and his gang headed to the headquarters of the Heineken beer company and kidnapped the owner's son, Freddy Heineken, and his chauffeur, Ab Doderer, then took them to an abandoned warehouse. The two men were placed in a secret room which had been designed to function as a cell.
The gang sent Heineken's father a ransom note demanding $21 million for the safe return of their hostages. The money was collected and given to Holleeder and his gang, who fled and left Heineken and Doderer chained up in the abandoned warehouse. Nearly three weeks later, police received a tip with three of the kidnappers' names from an informant.
Two of them were captured immediately, and thanks to a massive, worldwide manhunt, each of the three remaining members of the gang were also eventually captured. Holleeder was sentenced to 11 years for his role in the kidnapping.
4

Frank Sinatra Jr.
On December 8, 1963, Frank Sinatra Jr. was sitting in his hotel room in Lake Tahoe, California. A man named Barry Keenan knocked on his door and claimed to have a package for the 19-year-old singer. When Sinatra Jr. opened it, Keenan whipped out a revolver and signaled to his partner, Joe Amsler, who was hiding in the shadows. The pair kidnapped Sinatra Jr. and took him to a safe house in suburban Los Angeles. That's where they met up with their third partner, John Irwin, who was hired by Keenan because "he had a gruff voice."
After Sinatra Sr. found out about the kidnapping, he hurried to Reno, Nevada, and was called by the kidnappers. (They only got a hold of him by watching the news; Sinatra Jr. refused to give them his father's number.) A ransom of $240,000 was demanded, and it was given to the kidnappers a little more than three days after they grabbed Sinatra Jr. The young singer was dropped off on a freeway overpass and returned safely.
Within a few days, all of the perpetrators were captured. As far as their defense goes, the kidnappers claimed Sinatra Jr. had actually organized the whole thing. No one believed them and they were convicted. Keenan, as head of the kidnapping, received the harshest punishment of 75 years in prison. However, because of extremely liberal parole requirements, he only served four and a half years of that sentence.
3

Barbara Mackle
Barbara Mackle and her mother, Jane, were ready to leave Decatur, Georgia, because of a flu outbreak. On the morning of December 17, 1968, the two were awakened by a knock on their motel door. A man named Gary Steven Krist was outside, and he claimed that Mackle's fiance had been injured in an accident. When he was let in, Krist attacked the women with the help of his accomplice and lover, Ruth Eisemann. They used chloroform to render them unconscious and then kidnapped the young Barbara Mackle.
She was taken to a prearranged area in the woods and placed in a specially made capsule designed by Krist to hold the woman while the ransom was being arranged. Krist claimed that the capsule's battery would provide light and power a fan for 11 days, but it failed after only three hours. The first ransom drop was aborted because local police happened to come across Eisemann waiting in a car, and she fled. The second one went smoother, and Krist got the $500,000. However, the FBI already knew a lot about the kidnappers thanks to the evidence found in the car which Eisemann left behind, and they sent out details to the news. Krist called the Atlanta FBI agency and told them how to find Mackle. She was saved after 83 hours of being buried.
Thanks to tips they had received, the FBI tracked Krist down and arrested him a few days later. Eisemann, the first woman on the FBI's 10 Most Wanted list, managed to evade capture for a few months. Krist was sentenced to life in prison but only served 10 years, eventually becoming a doctor in Indiana. Eisemann only served four years out of her seven-year sentence.
2

Chowchilla School Bus Kidnappings

On July 15, 1976, Ed Ray was driving 26 schoolchildren back home in the small town of Chowchilla, California, when he noticed a man next to a seemingly broken-down van. He stopped to see if the man needed help, but realized it was a trick when the man pulled a gun and boarded the bus. Two accomplices jumped out of the back of the van, and one of them also got on the bus. They drove to a drainage slough, with the third driving behind them in the van.

Another van was waiting for them, and the children were split up among the two vehicles. They were driven to Livermore, nearly 160 kilometers (100 mi) away, where they were herded into a moving van which had been buried underground. The kidnappers were two brothers, Rick and Jim Schoenfeld, and their friend, Fred Woods. While they were setting up the ransom, Ray and the children managed to escape the moving van by stacking the mattresses high enough to slip through a hole in the ceiling. Ray and all of the kidnapped children made it back to Chowchilla safely a little more than 36 hours after the ordeal started.

The three kidnappers were captured shortly after and sentenced to life in prison, although two of them have already been paroled.
1

Jennie Mae Osborn
Jennie Mae Osborn was a 15-year-old girl who was walking home from school on February 24, 2001. A man named Joseph Rosenow, a convicted sex offender, offered her a ride and she accepted. He then proceeded to rape her and drive around for hours, stopping whenever he felt like pleasuring himself again.
When he realized that Jennie might die from the injuries he'd inflicted, Rosenow got his son to help him take the girl to a nursing home where his wife and daughter worked. The next day, Osborn died from her injuries at a Seattle hospital. Rosenow, the father of one of Osborn's friends, was quickly captured and pled guilty. He was sentenced to life in prison without parole thanks to the fact that he was a "three strikes" offender. At the sentencing, Jennie's older sister Brandi told Rosenow that she hoped to "piss on [his] grave so the grass would never grow."