Our World
10 Innovations Coming Soon To A Mall Near You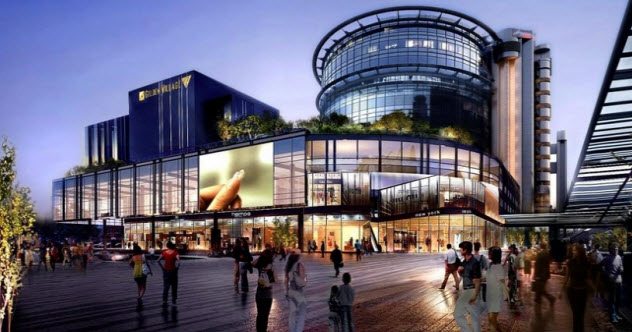 Struggling to survive against online shopping websites and applications (apps), traditional shopping malls have begun to incorporate innovations that they hope will level the playing field or even give them an edge over their digital competitors. Several innovations have already reached some malls, while others are still in the planning or conceptual stages.
In some cases, physical stores have adopted online shopping techniques. But the most interesting innovations are often services that online retailers can't provide. As you'll see, these shopping centers are getting more than simple makeovers. They're undergoing revolutionary transformations.
10

Crime-Fighting Robots
Following the mass shooting of students and teachers at Sandy Hook Elementary School in Newton, Connecticut, on December 14, 2012, Knightscope was founded. A Silicon Valley company dedicated to autonomous security data machines, Knightscope uses robots to collect and transmit information to law enforcement agencies and security firms.
In this way, they help to prevent crime. Currently, the company's crime-fighting robots have been deployed in shopping malls in cities in Massachusetts and New York.
Former police officer Stacy Dean Stephens, Knightscope's cofounder, said that intelligence concerning the active shooter situation at Sandy Hook could have allowed officers to respond more quickly.
Knightscope's robots can provide such intelligence. The robots are 152 centimeters (5'0″) tall and weigh 136 kilograms (300 lb). They use a 360-degree camera, multiple sensors, and license plate recognition software to get information.[1]
Thermo cameras and signal detection capabilities allow the robots to detect mobile devices. The robots are available for indoor and outdoor use and may soon replace mall security personnel.
9

Condominiums And Offices
A few years ago, Target stores closed their doors in many shopping malls. Now, Sears has announced that it will do the same. When such anchor stores leave, mall owners suffer revenue losses. As a result, the smaller shopping malls in Canadian suburbs will undergo major redevelopment over the next decade.
Anchor stores were magnets that attracted customers who would also buy from smaller stores as they walked from one anchor store to another. When the major stores closed, the mall's smaller stores lost business, too. These losses were magnified by online shopping sales, which siphoned off potential profits from brick-and-mortar stores.
One plan to transform such malls is to convert their acres of parking lots into offices and condominiums mixed with shops, movie theaters, bookstores, and restaurants. According to analysts, the departure of anchor stores won't doom malls because these shopping centers are already evolving to survive the changes.[2]
8

Reserved Parking Just For You
In Los Angeles, California, Westfield Century City mall is undergoing $1 billion in redevelopment and renovation to entice online shoppers to its corridors, plazas, and stores. Part of the money will be spent to revolutionize the mall's parking.
The shopping center will offer five valet stations, but it will also allow customers to reserve a parking space near the main entrance on Santa Monica Boulevard.
As you approach the entrance, the gate scans your vehicle's license plate, lifts to admit your car, and directs you to a parking space that's been reserved just for you. Your space is even identified by your name on a television monitor over the spot.
It's yours for a minimum of four hours at a cost of $20. If you prefer to park in an unassigned space, you can do that, too. Just download the mall's parking app to your cell phone, and you're all set.
Spending time trying to find a parking space in a crowded lot annoys shoppers, and redevelopers want to eliminate such "consumer pain points [by making parking] frictionless." Westfield's co-chief executive, Peter Lowy, says, "The mall design is meant to be a sanctuary. A place you will go that is soft, relaxing, and you do what you want at your own pace."[3]
7

Voice Shopping
An alliance of Google with Walmart, Target, Home Depot, and other retailers is going up against Amazon and its Echo devices. Aided by Google, the traditional big box stores want to make shopping much easier for their customers.
Using Google Assistant, the shoppers will shout their grocery lists and other product orders into their iPhones and Android phones while they run errands or take walks. If the person orders "detergent," the voice assistant will select the brand the customer prefers.
Purchases by Target customers will be shipped free of charge to Target stores if the orders total at least $35 each. Customers can pick them up within two days. Like Walmart, Target will let customers "link their accounts to Google Express for more personalized shopping."[4]
6

Chatbots
Thanks to the chatbot "concierge" service adopted by Indianapolis-based Simon Property Group, customers with questions can use Facebook Messenger to send an instant message to any of the company's 208 malls.
The chatbot simulates conversation with humans, providing directions, advice, and information about amenities, such as the locations of restrooms, baby changing stations, and parking. It also informs shoppers of deals and tells them where to find an ATM or restaurant.
If it can't help you, the chatbot enables you to send specific messages to mall representatives. Customers can also send messages to malls using their laptops or personal computers. Chatbots are just another way to use technology to entice shoppers to come to brick-and-mortar stores rather than do most of their shopping online.
Unfortunately, a few bugs still need to be worked out. A shopper who sent a Facebook message about Westfield South Shore mall in Bay Shore had to wait hours for an answer. In another incident, a question asked by a Newsday reporter ("Where can I find a bathing suit?") wasn't answered for two hours.
In general, though, responses are quick and customers have expressed their appreciation of the service.[5]
5

Free Electronic Legal Advice
Need legal advice?
No need to go to a law office. Some shopping malls intend to offer free legal advice, courtesy of kiosks that cover civil law. People planning a divorce or a foreclosure could avail themselves of the mall's free legal aid, as could individuals involved in landlord-tenant disputes. To identify the forms you need to complete, just type a description of your problem.
If you need an attorney, the machine will provide information about a lawyer or even schedule an appointment with one for you. If you prefer a DIY approach, the machine will print the forms you need so that you can fill them out yourself.[6]
Free electronic legal advice at mall kiosks and elsewhere is all but a done deal in Florida. The state wants to provide poor and middle-class families with affordable legal representation.
4

Artificial Intelligence
A major reason for the dramatic reduction in mall visits is that offline retail business is stuck in the analog age. Brick-and-mortar malls hope to reclaim customers lost to online shopping by bringing digital technology into stores. The use of artificial intelligence (AI) is one way that offline retailers can accomplish this goal.
Traditional stores already use a good deal of technology behind the scenes for operational functions, but analysts see a need for such technology in the stores themselves and in communications with customers.
For example, 3-D full-body scans in stores provide a photo-realistic image of a customer interested in buying fashionable clothing. The image can be rotated 360 degrees at the touch of a finger or cursor. This allows retailers to match a customer's body to an array of attire that the customer is interested in. The technology can also be used to determine if a specific garment is in stock.
AI simulates human conversation, making it easy for customers to ask questions and interact verbally with live chat apps. The technology has become so sophisticated that 38 percent of subjects involved in tests of live chat apps and messenger apps were unable to determine whether they were interacting with a human being or software.
Customers are likely to appreciate the success of AI communications technology because many people prefer to talk to other human beings. When they can't tell whether they're speaking to another person or an app, they often believe that they're communicating with another person.[7]
3

eCommerce Logistics Services
A new retail mall at Singapore Post Center offers the best of both worlds, providing online and offline shopping under the same roof. This fusion is expected to revolutionize retailing for the mall's stores and their customers.
Shoppers could browse in brick-and-mortar stores, buy items on-site, and have purchases delivered to their homes. This would let customers continue to shop, eat in a mall restaurant, or enjoy a movie without carrying packages and shopping bags with them. Meanwhile, retailers would reduce storage space in their stores because their customers' purchases would be filled at warehouses.
The use of eCommerce logistics services with offline shops is a win-win situation. Visitors enjoy an enhanced shopping experience while stores cut operating costs and remain relevant to their customers.[8]
2

Medical Services
In shopping centers in Albany, New York, another mall innovation aims to ensure that there's a doctor in the house. Hospital annexes will connect physicians to patients.
A mall location once occupied by a tanning salon now houses one of Sunnyview Rehabilitation Hospital's new physical therapy offices. It's the hospital's third storefront medical office in the region.
Meanwhile, St. Peter's Hospital operates 17 laboratory sites, including one between a deli and a nail salon. The lab's location and hours of operation make it easy for shoppers to fit medical service into their day.
Kimco Realty's shopping malls have an eclectic mix of medical facilities, including urgent care clinics for conditions that aren't life-threatening, satellite centers for hospitals, after-hours pediatric medical care, wellness centers, and even dialysis centers.
These types of services can't be duplicated online.[9]
1

Funeral Homes
In Southern California, an increasing number of customers will be able to visit funeral home kiosks in shopping malls. They can pick out coffins or urns and plan their funeral services. Those in the business consider this new sales approach superior to passively waiting for people to visit a funeral home.
Robert Fells, executive director of the International Cemetery, Cremation, and Funeral Association, said, "Nobody gets up on a Saturday morning and says, 'Gee, it's a nice day. I wonder if I can go out and get myself a burial plot.' " He believes that people may take a different view if "they're surrounded by happy, lively people and maybe clutching a bag of Mrs. Fields' cookies."
Forest Lawn cemeteries contain the remains of celebrities such as Walt Disney, Elizabeth Taylor, and Michael Jackson. To reach the largest audience of potential customers, the company shifts its funeral kiosks between six malls that provide its outreach services. Employees pass out brochures but otherwise let customers approach them.[10]
Gary Pullman, an instructor at the University of Nevada, Las Vegas, lives south of Area 51, which, according to his family and friends, explains "a lot." His 2016 urban fantasy novel, A Whole World Full of Hurt, available on Amazon.com, was published by The Wild Rose Press.