Crime
10 Fugitives Captured Under Remarkable Circumstances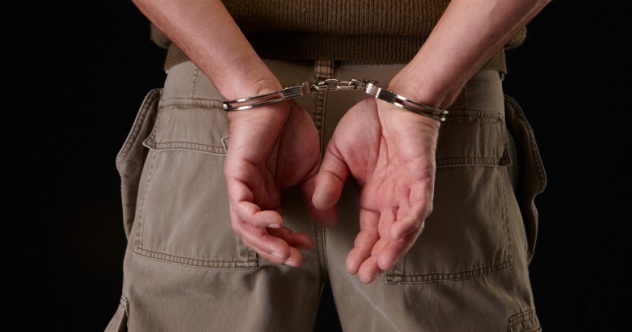 If you commit a crime, you will most likely be caught. However, some criminals have evaded capture, and it was only through the intervention of luck and hard work that they were caught. Sometimes, new technologies or new ideas have resulted in fugitives being caught. Either way, it was through remarkable means that many of these elusive criminals were found and caught by the authorities.
10

Joseph Kimsey
Caught By A Family's Pet Goat

https://www.youtube.com/watch?v=H56v4-s3Si0
In February 2015, an unusual story came from Colorado, where a soldier with an outstanding animal abuse charge was found, ironically, by an animal. Joseph Kimsey, who also went by Joseph Hargett, had fled a traffic stop in El Paso County, where he had been stationed in a combat brigade. Authorities gave chase, and he eventually abandoned his pickup truck. The car chase then became a manhunt.

When the Browning family was informed by the state patrol that there was a wanted fugitive on the run in the area, they were on edge and started to lock their doors just in case. It was then that they noticed that their six-year-old goat, Dwight, was staring at what appeared to be nothing more than bushes. As John Browning put it, "One more time I'll just quickly check all the doors and windows and make sure they're locked, and I just happened to glance down this way [points at his goats], and I said, 'Kathy, Dwight's looking at someone.' " That's when Browning saw that their goat was staring directly at Kimsey, who was hiding in the bushes. Kimsey went to their neighbor's house, but the Brownings called their neighbors, who then talked Kimsey into surrendering to the authorities.

Many say that if it weren't for Dwight the goat pointing out the fugitive in hiding, Kimey would still be on the run. Nick Browning, John's son, said about the goat: "He's a hero. [ . . . ] He deserves the key to the city!"
9

Leslie Isben Rogge
The First Man Caught By The FBI's Website


Leslie Isben Rogge is most notable as the first fugitive captured by the FBI's website. His story dates back to when the Internet was first being recognized as a crime-fighting tool. Rogge committed over 30 bank robberies. He was put on the FBI's Most Wanted List in 1990 but fled the United States about two years later. After he left the country, the case went cold.

In 1996, a teenager living in Guatemala was using the Internet and checked out the FBI's website. He looked over the wanted posters and saw that one of them looked remarkably similar to a family friend named "Uncle Bill," who had helped him install his computer weeks before. The wanted fugitive was Leslie Isben Rogge. After the teen reported his find to the FBI, the subsequent manhunt and media frenzy forced Rogge to turn himself in to the US embassy in Guatemala City.

Rogge's capture using such an innovative tool (for the time) helped to convince the FBI to use the Internet more often in their crime-fighting efforts. With the help of cyberspace, they now had a potentially international weapon to fight crime.
8

Eduardo Rodriguez
Caught Through Facebook

Eduardo Rodriguez was the second-in-command of a Los Angeles gang when he was indicted for four homicides and two attempted homicides. In 2001, he allegedly killed Margie Mendoza, a mother of three, while she was sitting in her car. It wasn't until 2003 that the police managed to tie Rodriguez to Mendoza's death, but by then, he was on the run, and he wouldn't be seen until a decade later in a very unusual place.
Fast-forward to 2015. Rodriguez has been the LAPD's "most wanted" for over a decade. Detectives in Glendale reignited the case when one of them saw a recent picture of Rodriguez on the Facebook page of one of his gang associates. It was originally believed that Rodriguez had fled to Mexico after he received word that the police were looking for him. He actually went to the nearby community of Riverside, where he worked as a carpenter, found a fiancee, visited Las Vegas, and even went to Griffith Observatory in Los Angeles without getting noticed by law enforcement.
One evening when Rodriguez went to work, the authorities came in and took him into custody 12 years after they first indicted him. Rodriguez concealed his identity pretty well; his fiancee was "genuinely shocked." In fact, his neighbor described him as a nice man. Whatever the case, as of this writing, Rodriguez is awaiting trial.
7

Dominic Reddick
Caught Taking Doughnuts From The Trash


In February 2003, Dominic Reddick was accused of killing a police officer in Orlando, along with multiple armed assaults. He went on the run, sparking a fierce manhunt that spanned two states and involved hundreds of officers who were desperate to find Reddick. After months and months of searching, Reddick was finally caught in a depressing state. A woman who had heard of the case called the police after she saw Reddick digging for doughnuts in a garbage bin.

Reddick had wanted to flee to the Cayman Islands, where he had family. He had escaped from a prison transfer, barefoot and shackled. He managed to reach Georgia after allegedly paying a woman $1,000 to take him to Savannah. While the police discredited this story, they still had no answers as to how Reddick got so far.

It seemed that Reddick wanted to be captured because of his poor health, starved state, and the fact that it was mid-December. He claimed that he wanted the doughnuts because he'd had nothing to eat for some time. The garbage bin was outside of a convenience store on an interstate. Coincidentally, the convenience store was being used as a command post by police searching for him in the area. It took only 15 minutes for dogs to pick up his scent.

After a chase by authorities, Reddick was taken into custody and sent back to Florida, where he was treated for cuts and scrapes that he had received from hiding in swamps and forests. He had also developed pneumonia.
6

Thomas Holden
The First Man On The FBI's Most Wanted List

While Leslie Isben Rogge was the first FBI fugitive captured by the Internet, Thomas Holden was the first to have his face put on the FBI's Ten Most Wanted Fugitives list. Holden, along with his accomplice, Francis Keating, were prolific bank robbers during the 1920s and the 1930s. They were first captured in 1928 and given 25 years each. They were sent to Leavenworth Prison, one of the most famous prisons in the US. However, they wouldn't be locked up for long.
In 1930, after serving just two years, Holden and Keating escaped from prison with the help of fellow bank robber George "Machine Gun" Kelly. After they got out, Holden and Keating started to rob banks again. Their crime spree would last until 1932, when they were captured again. They returned to Leavenworth, and the authorities were sure that Holden and Keating wouldn't escape again. Their prediction was true; Holden and Keating served their time.
Holden was paroled in 1947. It seemed that his life of crime was over, but that wasn't the case. In 1949, after being a free man for two years, Holden killed his wife and two of her brothers after a drunken argument. In 1950, the FBI was still desperately looking for Holden when they came up with a brilliant idea. They released the Ten Most Wanted Fugitives list. Holden was the inaugural fugitive. A year after the list was first released, someone recognized Holden, who lived nearby and worked as a plasterer. The FBI arrested him at his work. He was later given a life sentence and died in prison. The Most Wanted list went on to become one of the most iconic crime-fighting devices.
5

Clarence David Moore
Turned Himself In For Health Care


In April 2015, Ronnie Dickinson turned himself in to authorities and claimed that he had been a fugitive on the run for nearly 40 years. The police had never heard of him because his name was actually Clarence David Moore. Moore had committed a series of crimes and escaped prison. He'd evaded capture for 39 long years.

Moore's reason for the anticlimactic end to his time on the run was simple: He wanted the health care offered in prison. Moore was 66 years old and had been living in Frankfort, Kentucky, for some time without any trouble. He hadn't aroused any suspicion. No one suspected him at all. In fact, neighbors knew him as a kind, albeit sickly, man. According to them, he was a diabetic.

Moore first went to prison in the 1970s in North Carolina but escaped in 1971, only to be caught hours later. After several other escape attempts, Moore finally disappeared for good in 1975—until he turned himself in. He had had a stroke, which made speech difficult and left him partially paralyzed. Because he had nowhere near the kind of money needed for treatment, and he had no valid social security under his alias, he gave himself up to authorities to receive the treatment he needed.

Would Moore have been captured if he hadn't turned himself in? We will never know, but we do know that Moore won't return to the North Carolina facility he escaped from. It closed its doors in 2002.
4

Chris Gay
Arrested After Stealing A Tour Bus


Chris Gay has quite a reputation. He has escaped from law enforcement 13 times in some of the most brash ways possible. Because of his reputation as an escape artist, Gay has been called "Little Houdini." However, his life of crime came to an end in 2007, after he stole singer Crystal Gayle's touring bus. He was found a day later at the Daytona International Speedway, where he said he was tired of running.

Chris Gay had been on the run for 20 years when he was caught. His criminal career began when he was young. He came from a poor Southern family that could afford very few luxuries. Gay and his brother began to steal poultry and snacks from local shops. Soon, they moved from small items to bicycles, then ATVs, and finally, they began to steal cars. They evaded authorities every time. On one occasion, Gay was taken to a juvenile detention center. Later, the sheriff who brought him there went to a convenience store to buy a drink. Gay had broken out of the detention center and was there waiting for the sheriff.

Gay would continue to commit crimes and evade authorities until the 2007 incident, in which he escaped from a prison transport so he could see his mother, who was dying of cancer. After stealing multiple vehicles to elude authorities, Gay stole Crystal Gayle's bus and went to the USA International Speedway, where he claimed to be NASCAR driver Tony Stewart's transport. He left after the manager of the speedway became suspicious. He was reported to authorities. He was caught after asking for directions from a prostitute (who was actually with the police) and was placed under arrest. Gay would escape again in 2009, but he was caught soon after. He has remained in prison since.
3

Ethan Couch
Caught After Ordering A Pizza


Ethan Couch has recently returned to the media spotlight after first becoming famous in 2013 for getting away with killing four people in a drunk driving incident by using the "affluenza defense." Couch's lawyers claimed that he had been so protected and coddled by his parents' money that he couldn't discern between right and wrong. Couch was given probation. He wasn't allowed to drink while on probation. Recently, a video emerged in which Couch was at a party where alcohol was being consumed. Since he broke the terms of his probation, Couch ran the risk of going to jail. Rather than face the music, he and his mother fled the country.

For several days, the authorities searched for Couch and his mother. A lead came when one of the family's phones showed that they had ordered a Domino's pizza in the coastal resort town of Puerto Vallarta, Mexico. The two were immediately found in a condominium, and Couch was detained and taken to a deportation facility, where he is currently fighting to stay in Mexico. Couch's mother was deported from the country and faces charges for hindering the apprehension of a minor, a charge which carries a sentence of 2–10 years in prison. It soon emerged that Couch and his mother had even had a "going away" party, which seems to indicate that it had all been planned.

Many have criticized the judge's original 2013 ruling, and they now take these recent events as evidence that Couch has learned nothing and needs to receive punishment. If Couch is found guilty of violating his probation, at most, he will receive 120 days in jail.
2

Neil Stammer
Captured By Facial Recognition Software


For years, many doubted that the victims of child molester Neil Stammer would ever receive justice. Unlike most criminals who try to escape capture, Neil Stammer had a pretty good chance of getting away with his crimes. He could speak multiple languages and was well-traveled, so he knew how to hide outside of the United States. However, through the extraordinary efforts of the FBI, Stammer was caught in 2014 after 14 years on the run.

Stammer was a talented juggler. As a teenager, he took up juggling to make ends meet, and he soon became world-famous for it. By the time he was 32, Stammer owned a magic shop in New Mexico. From there, his story took a dark turn. In 1999, Stammer was arrested on multiple charges, including kidnapping and child sex crimes. He posted bail but never showed up for arraignment. In 2000, New Mexico issued an arrest warrant, and federal fugitive charges were later filed. When the FBI took over the case, they had their work cut out for them. Stammer, as mentioned before, could read and speak multiple languages and was quite well-traveled. There were few leads, and the case went cold.

In 2014, Special Agent Russ Wilson was given the case. He focused on it because of its apparent impossibility, but through a remarkable coincidence, Stammer was found. A special agent with the Diplomatic Security Service was testing facial recognition software on visas and passports. As the agent was working, he decided on a whim to test the software on the FBI's most wanted. To his surprise, he found a match. Stammer had a passport under a different name. The agent contacted Wilson, who discovered that Stammer was living comfortably in Nepal as an English teacher. While Nepal has no extradition treaty with America, they helped with the FBI's efforts, and Stammer was brought to justice.
1

Vincens Vuktilaj
Captured After Shutting Down New York's Subway System

Rather than being a fugitive for several days, months, or years, Vincens Vuktilaj was on the run from police for only a few hours, but during that time, he caused the entire Harlem subway system to shut down as he tried to evade capture. A subway shutting down in part of the most populous city in the US can cause more than a few people to be inconvenienced.
It all began in 2013, when 18-year-old Vuktilaj was arrested for approaching two older women and stealing their necklaces. He made bail and then celebrated his birthday and was rearrested just one day later. While handcuffed and shoeless, Vuktilaj managed to shove away one of the detectives leading him to a squad car and proceeded to run to the subway and into the tunnels.
Service lines in Manhattan, Brooklyn, and the Bronx were all stopped while an army of police and dogs searched for Vuktilaj. After two hours, the trains began to operate again. For three hours, the police continued to search for the handcuffed fugitive. It became clear that Vuktilaj didn't want to use the subway as a hiding place. Rather, it was a makeshift getaway plan to escape from the police. While using mass transit to avoid being caught might have seemed like the ultimate way to escape, the New York police managed to block every escape, destroying any chance that Vuktilaj would get away. After five hours, he was found and taken into custody, where he faced further charges for resisting arrest and felony assault.
Gordon Gora is a struggling author who is desperately trying to make it. He is working on several projects, but until he finishes one, he will write for Listverse for his bread and butter. You can write him at [email protected].